Machine tools

Machine tool accessories

Welding, cutting equipment

OEM Machined parts, components
Hot Products

Knee type milling machines
Radial universal turret milling machines, table 9"x42"/49"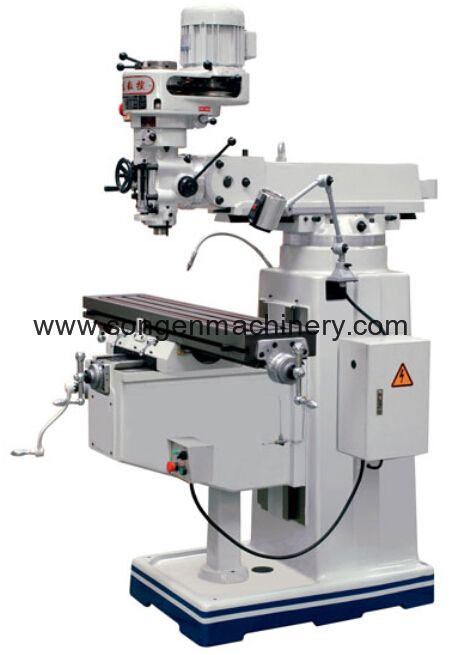 Applications:

RTM230A, RTM230Bram type turret milling machines have the reasonable construction and the superior machining functions to perform drilling, boring, milling of surfaces and slots. Equipped with various accessories such as the rotary tables and the dividing heads, these turret milling machines can cut helix slots, round surfaces, racks, gears and splines.

Features:

1. The machine base and the machine column on these turret milling machine are integrated into an one-piece construction. They are made of high-density and high-strength close-grained grey cast iron. With the column being designed with internal reinforcement ribs, the machine has the high rigidity and the shock absorption capacity;

2. The vertical turret milling head on these machines swivel left / right within 90 degrees and tilts front / rear within 45 degrees. The ram swivels around the column for 360 degrees. All of these motion capacities greatly enlarge the machine's machining scope;

3. Turret milling heads with 16-step speeps or variable speeds are available. These turret milling heads are made in Taiwan, having high quality;

4. All guideways on these turret milling machines are hardened, precision ground and coated with PTFE to achieve very high rigidity and wear-resistance. The guideways thus can sustain the high moving accuracy for a very long time. The 55-degree dovetail guideways only or the combination of the 55-degree dovetail guideways and the rectangular guideways are adopted on these turret milling machines. For RTM230A turret milling machine, double 55-degree dovetail guideways are on both the Y-axis and the Z-axis, making the clearance between guideways easy to adjust and repair. For RTM230B turret milling machine, the 55-degree dovetail guideways are on the Z-axis and the rectangular guideways are on the Y-axis. The above mentioned guideway types are the unique difference between RTM230A and RTM230B turret milling machines;

5. Table size on both these two models of turret mills can be optional as 9"x42" or 9"x49". Table surfaces are hardened and precision ground to offer the good wear-resistance and positioning accuracy;

6. Vertical turret milling heads, the screws on X/Y/Z axes are made in Taiwan, having very good quality;

7. The electrical systems on these turret mills are designed as per CE standards. Components are uder world famous brands such as Siemens, Schneider, Delixi, Juche, etc.;

8. Various machine accessories are available to fit on these turret mills to enlarge their machining scope or imporve their machining accuracy. These accessories or components are power feeds, gearbox feeders, plastic splash guard, digital readout (2-axis or 3-axis), machine vise, ball screws and so on.
Specifications
Unit
RUHM230A
RUHM230B

Table size

mm

230x1067 (9"x42") or 230x1246 (9"x49")

Longitudinal travel

mm

650 for 1067mm long table; 840 for 1246mm long table

Cross travel

mm

305

Vertical travel

mm

400

T-slot No.and wdth

mm

3x16

Ram travel

mm

312

Distance from spindel nose to table surface

mm

15 - 415

Spindle bore taper




Standard: R8; Optional: ISO30, ISO40

Spindle travel

mm

127

Spindle speed

rpm

Standard: 16 steps, 50HZ: 65-4500, 60HZ: 80-5440

Optional: variable 65-4500

Auto.quill feed

mm/rev

Three steps, 0.04(0.0015")/ 0.08(0.003")/0.15(0.006")mm/revolution

Spindle motor

kw/hp

2.25kw / 3hp

Head swivel




90°

Head tilting




45°

45°

Dimension of package

mm

1400x1476x2030

Weight

Kg

1100

1160
Note: If power feed is fitted on X axis, the table's longitudinal travel will be shortened by about 100mm.
Optional accessories
| | |
| --- | --- |
| X-axis APF500 power feed | 2-axis DRO/ SINO X/Y-axis |
| X-axis APF750 power feed | 3-axis DRO/ SINO X/Y/Z-axis |
| Y-axis APF500 power feed | 6 inch machine vise |
| Y-axis APF750 power feed | 52PCS clamping kits |
| Z-axis APF750 power feed | 8PCS R8 collets |
| X-axis Gear box feeder | 15PCS R8 collets |
| Y-axis Gear box feeder | 8PCS R8/NT30/NT40 collets |
| Z-axis lifting motor | 15PCS R8/NT30/NT40 collets |
| Coolant system | Air-power draw bar |
| Plastic splash guard | Spindle guard |
| Oil tray | Table guard |
| Hanging button box | Ball screw for RUHM230B/ RUHM230A |
| Variable speed milling head- | Ball screw for X6325 |
| spindle of X6323~X6325 change to NT40 | Ball screw for X6330/6333 |
| Automatic lubrication pump | |