Machine tools

Machine tool accessories

Welding, cutting equipment

OEM Machined parts, components
3000x1200x1500mm T-slotted angle plates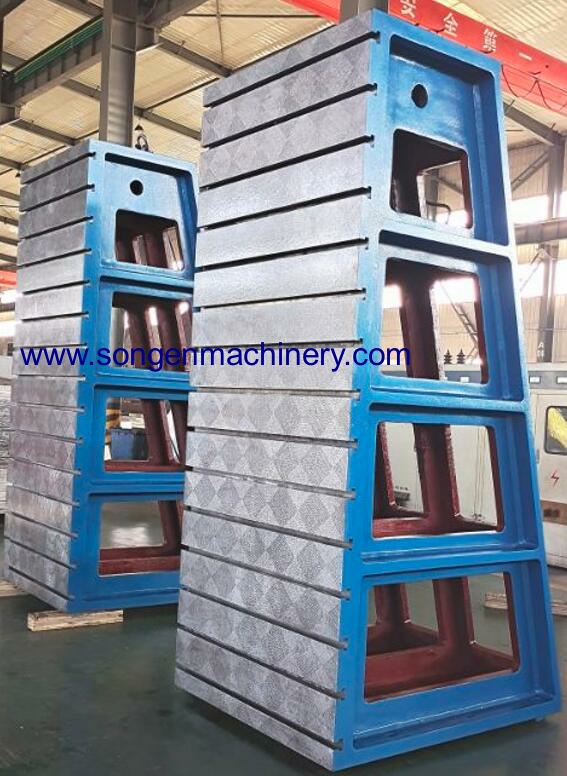 We proudly delivered the customized large T-slotted angle plates 3000x1200x1500mm (2 Pcs) to a very large oversea manufacturing plant. These angle plates would fit on a floor-type horizontal boring mill on which huge workpieces will be setup on the paif of T-slotted angle plates, in order that all the designed machining programs can run upon only one setup of workpiece.

These T-slotted angle plates are heavy-duty, high precision types. They can carry tons of workpieces in one setup, and have T-slots tolerance as H7 grade. Their T-slots are DIN 650 T28H7, is on request, other dimensions of T-slots can be produced. Material HT-250 grey cast iron was used to build them, annealment treatment had been processed on them, to releive the internal stress to its minimum. T-slots or threaded holes, or both, can be produced on the T-slotted angle plates to work as clamping elements.
We for decades have been customizing T-slotted angle plates, T-slotted cubes, T-slotted tombstones to expand the workholding styles for the actual and specific needs on the floor type boring mills, table-type boring mills, machining centers, or other machines with a large horizontal table to carry them. Whenever your boring mills call for them, please contact us for a valuable proposal. We can arrange well in designing, production and afterthere the overseas shipments.
On request, we supply below T-slotted angle plates with standard sizes as below, although they can always be entirely customized to order.
(Height x Width x Depth, mm) 1500x800x800, 1500x1000x800, 1500x1200x800, 2000x800x800, 2000x1000x800, 2000x1200x1000, 2000x1500x1000, 2500x800x1200, 2500x1000x1200, 2500x1200x1200, 2500x1500x1200, 3000x800x1200, 3000x1000x1200, 3000x1200x1200, 3000x1500x1200, 3500x1000x1500, 3500x1200x1500, 3500x1500x1500mm.