Machine tools

Machine tool accessories

Welding, cutting equipment

OEM Machined parts, components
Hot Products

RT800X800PM Pneumatic Manual Rotary Table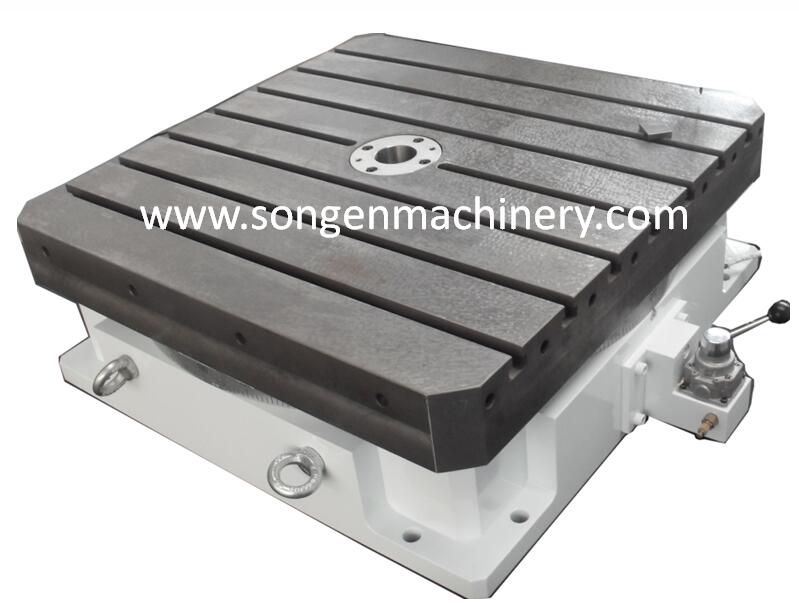 The pneumatic & manual indexing rotary table operates in a style of pneumatic lifting and manual rotating and can achieve high-precision machining process together with the main machine. It has the characteristic of low rotating torque, high load capacity and reliable clamping.
This pneumatic & manual rotary table performs pneumatic power lifting and manual indexing. Its minimum indexing unit is 1 degree or 5 degrees. Hirth couplings inside work as the indexing component;
With the ability to achieving indexing accuracy as 10 seconds and repeatability accuracy as 3 seconds, this series of rotary tables are widely used for various borers, millers and grinders to obtain high-precision machining.
Parameter

RT800X800PM

Turntable size (length X width), mm

800X800

Total thickness, mm

290

Center bore diameter, mm

60H6

T-slot size, mm

18

Rotation direction

Clockwise
&anti-clockwise

Table loosing/clamping stroke,mm

6

Driving mode

Clamping/loosing

Air 5~8 Bar

Rotation

Manual

Min. unit of indexing, Deg

5 or 1

Max. load capacity, Kgf

5500

Clamping force, Kgf

5900

Weight, Kgs

1400