Machine tools

Machine tool accessories

Welding, cutting equipment

OEM Machined parts, components
Hot Products

Max. grinding OD 500mm, ID 200mm universal cylindrical grinder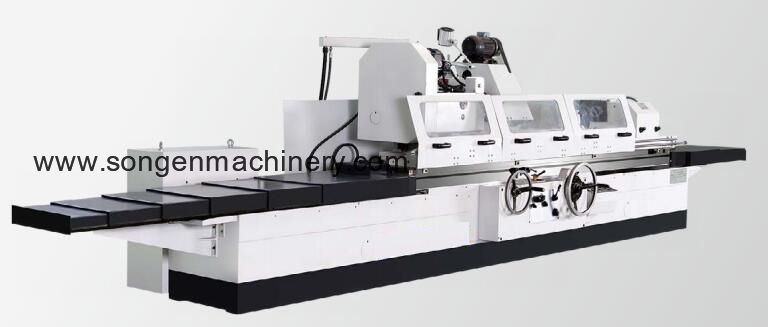 1. The UCG500/200 universal cylindricall grinder is widely used to grind external (or internal) cylindrical (or conical) surfaces of rotational parts in single-piece, small-batch and mass productions. It is a generally purposed cylindrical grinder and can be operated in grinding parts and componentes for various industries;
2. This universal cylindrical grinder can hold workpieces with weight up to 1000 KG. The distances between two centers (one is on the workhead, the other is on the tailstock) are available as standard 1500, 2000, 3000, 4000 mm. We can also custom make the cylindrical grinder to have a D.B.C. of more then 4000mm on request;
3. Machine base consists of the base supporting the grinding wheel head and the base supporting the worktable, the work head and the tailstock etc.. All the machine bases are made of high-density and high-strength gray cast iron which has been carefully heat-treated with twice annealment to eliminate the residual internal stress to the minimum, therefore the machine bases avoid distortion and enable the cylindrical grinder to retain its high performance accuracy in the long-term operations;
4. The worktable's movement is actuated hydraulically at infinitely variable speeds or can also be actuated by hand. The rapid traverse and the periodic micro-infeed of the grinding wheel head are also hydraulically actuated. In addition, the micro-infeeds of the grinding wheel head can also be manually operated in both the coarse-infeed mode and the fine-infeed mode. All the above power functions are accomplished by pushing buttons or levels to activate electrics or hydraulics. Guideways are plastic coated and moreover lubricated by pressured oil and feature the great shock-absorbing and anti-friction capacity and the stable low-speed movements on this cylindrical grinder.
5. The work head on this cylindrical grinder can swivel in a range of 0 - 90 Degrees in anti-clockwise direction and be set-up at any angle, thus workpieces can be clamped on the chuck to grind the external or internal surfaces on the workpieces. It also can be moved in the longitudinal direction. The spindle on the workhead is supported on bush bearings with adjustable clearance in order to maintain high-precision rotation for the workpieces. Moreover, the motor fitted on the work head is a variable frequency motor which offers the spindle variable stepless speed in a range of 18 - 224 RPM, thus the operator can conveniently set up the optimal spindle speed for the work head exactly according the workpiece's weight, sizes, shapes and precision requirements etc.;
6. The grinding wheel head is equipped with a two-speed motor. Its spindle is supported on the hybrid bearing bushes which are lubricated with an independent lubricating device, thus the grinding wheel features the high rotation accuracy, high rigidity and high anti-shocking capacity and can undertake heavy grinding. The rapid traverse of the grinding wheel head on this cylindrical grinder is hydraulically driven and its coarse feeds and fine feeds are carried out manually. The grinding wheel head guideways are hydrostatically lubricated with the oil stabilizer mouted on the rear of the grinding wheel head. The pressure of each oil cavity on the guideways can be adjusted separately so that the every point on the grinding wheel head can keep its floating amount consistent with each other;
7. The internal grinding attachment bracket on the wheelhead can be turned down for grinding internal parts and the attachment is supplied with several sets of internal grinding quills;
8. The grinding wheel dresser is mounted on the tailstock, the cylindrical dresser is mounted on the worktable. On both these two dressers, the dressing amounts can be adjusted manually;
9. Workpiece, external and internal grinding wheels, hydraulic fluid pump and coolant pump on this cylindrical grinder are driven separately by an independent motor;
10. Each moving area on this cylindrical grinder is controlled with electric and hydraulic interlocking mechanism;
11. The external and internal wheel covers on this cylindrical grinder are strong and reliable, thus the cylindrical grinder can be operated with ease and safety.
Working Accuracy:
Roundness(outer circle/inner circle)

3μm for D.B.C. 1500mm grinder




5μm for D.B.C. 2000/3000/4000mm grinders

Dia. Uniformity in the long. section

8μm for D.B.C. 1500mm grinder




10μm for D.B.C. 2000/3000mm grinders




15μm for D.B.C. 4000mm grinder

Surface roughness(outer circle/inner circle)

Ra0.16μm/ Ra0.63μm
Standard accessories:
1. 3-Jaw self-centering chuck, OD 325mm;
2. Open-type steady rest;
3. Carbide tipped center, MT #6;
4. Internal grinding attachment, 10000 RPM speed;
5. External grinding wheel, OD500 x Width75 x ID305;
6. Internal grinding wheel, OD30 x Width25 x ID10;
7. Grinding wheel pressing plate;
8. Grinding wheel periphery dresser;
9. Grinding wheel balancing mandrel;
10. Grinding wheel detaching wrench;
11. Measuring bridge plate;
12. Machine leveling & anchor mounts;
13. Driving rod and lathe dog;
14. Coolant system;
15. Hydraulic power unit.

Optional accessories:
1. 4-Jaw independent chuck, OD 320 mm;
2. Grinding wheel balancing stand;
3. Grinding wheel circular dresser;
4. Grinding wheel end face dresser;
5. Carbide heavy-duty center;
6. Close-type steady rest;
7. Half-notched center;
8. Magnetic separator;
9. Center grinding attachment.
Specifications
Unit
UCG500/200 x 1500/2000/3000/4000
GENERAL CAPACITY

Maximum distance between centers

mm

1500/2000/3000/4000 mm

Center height

mm

270

Diameter ground (OD)

mm

25 - 500

Diameter ground (ID)

mm

30 - 200

Maximum length ground (OD)

mm

1500/2000/3000/4000 mm

Maximum length ground (ID)

mm

450

Maximum weight of workpiece

KG

1000

WORK HEAD

Swivel angle

Degrees

Counter clockwise 90

Center taper

MT

#6

Spindle speed

RPM

50Hz: 20 - 224, Stepless

GRINDING WHEEL HEAD

Wheel spindle speed

RPM

High: 1330; Low: 665

Wheel rapid traverse travel

mm

100

Maximum travel of wheel

mm

370

Swivel angle

Degrees

Clockwise: 30; Counter-clockwise: 0

Feed per hand wheel revolution

mm

Rough: 4.0; Fine: 0.5

Feed per graduation on hand wheel scale

mm

Rough: 0.02; Fine: 0.0025

Minimum periodically feed

mm

Rough: 0.02; Fine: 0.0025

Diameters of grinding wheels

mm

Maximum: 500 mm; Minimum: 400 mm

INTERNAL GRINDING ATTACHMENT

Spindle speed

RPM

6000

Size of grinding wheel (OD x Width x ID)

mm

Max. 50 x 25 x 20; Min. 17 x 20 x 6

WORKTABLE

Feed per hand wheel revolution

mm

6

Maximum swivel angle

Degrees

Clockwise

3

2

2

1

Counterclockwise

6

5

3

2

mm

for D.B.C.

1500

2000

3000

4000

Longitudinal rapid traverse speed

mm/Minute

10 - 3000

TAILSTOCK

Center taper

MT

#6

Quill travel

mm

70

MOTORS

Grinding wheel head motor

KW

5.5 / 7.5, Double-Speed Motor

Internal grinding attachment motor

KW

1.5

Work head motor

KW

4, AC Variable Frequency Motor

MACHINE SIZES AND WEIGHTS

Gross weight /Packing size

KG / cm

12000 / 510x228x210, for D.B.C. 1500 mm




13000 / 585x228x210, for D.B.C. 2000 mm




15000 / 785x228x210, for D.B.C. 3000 mm




17000 / 1000x228x210, for D.B.C. 4000 mm