Machine tools

Machine tool accessories

Welding, cutting equipment

OEM Machined parts, components
BLQ2360Kx1000 Horizontal engine lathe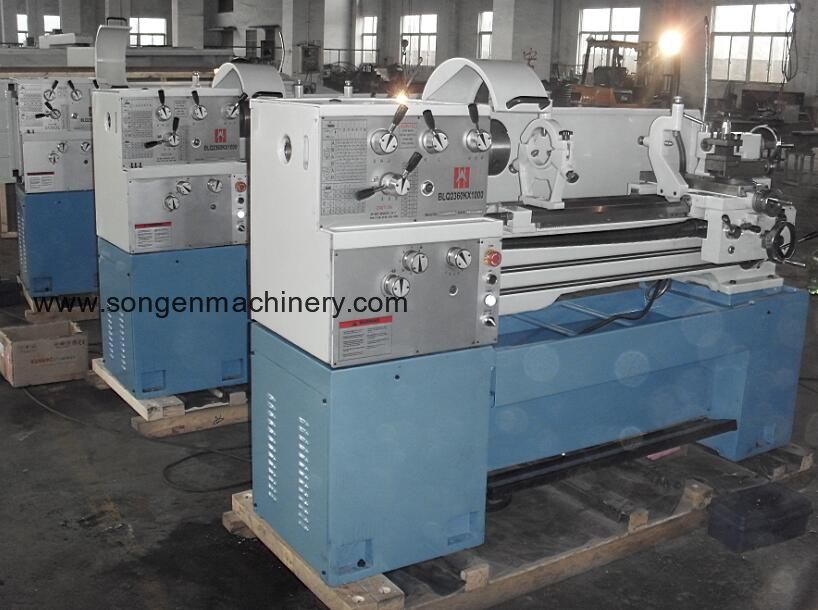 Geared head with high spindle speeds for precision turning;

Hardened and precision ground gears are featured in the headstock and gearbox;

Very rigid machine bed with heavy ribbing;

Bed ways ultrasonic frequency quenching hardened and precision ground;

D1-4 spindle is precision ground for accuracy and supported on high-precision tapered roller bearings;

Headstock is constantly oiled during operation;

Splined, not keyed, shafts are utilized in the headstock;

Gearbox gives large threading and feed capabilities with no need for gear changes;

Gap bed section provided for larger diameter workpiece;

Independent lead screw and feed rod;

Spindle actuation control is apron mounted;

Automatic feed and threading are fully interlocked;

Inch-metric thread chasing dials are supplied as standard accessories;

Compound rest and cross slide have backlash elimination;

Adjustable gibs are incorporated in the carriage and the bed ways;

Tailstock may be offset for turning tapers and includes an inch-metric graduated quill;

Tolerance test certificate included with machine in supply;

Heavy-duty Stand;

150mm 3-jaw direct mount scroll self-centering chuck with two sets of jaws;

200mm 4-jaw independent chuck with reversible jaws;

250mm face plate;

40mm Diameter spindle bore, option as 51mm;

Four-way tool post;

Steady rest and follow rest

Micro-carriage bed stop;

Front removable chip tray;

Spindle jog button;

Pedal brake for quick start or stop of the machine decreases the standby time;

Main power supply is shut off automatically when the electricity cabinet door is opened or the change gear box hood is opened;

Coolant system with splash guard;

Metric change gears;

Halogen work lamp;

Centers MT #3, MT#5 and headstock center adpating sleeve;

Machine color decided by buyer.
Standard accessories:
1. 3-Jaw self-centering chuck (160mm) c/w reversible top jaws;
2. 4-Jaw chuck (200mm) with reversible top jaws;
3. Face plate (250mm);
4. Steady rest;
5. Follow rest;
6. Dead center MT #5;
7. Dead center MT #3;
8. Center adapting sleeve MT #5/#3;
9. Thread chasing dial;
10. Splash guard;
11. Halogen work lamp;
12. Stand & oil tray;
13. Toolbox & tools;
14. Coolant system;
15. Pedal brake
Optional accessories:
1. 2-Axis (or 3-Axis) digital readout system;
2. Quick change tool post, with one pc of tool holder;
3. Lead screw guard;
4. Chuck guard;
5. Live center MT #3;
6. 5C collet chuck with collets of sizes range decided by customer;
7. Taper turning attachment;
8. Other accessories on requests.
| | |
| --- | --- |
| Model | BLQ2360Kx1000 |
| Distance between centers | 1000 mm |
| Swing over bed | 360 mm |
| Swing over gap | 508 mm |
| Swing over cross slide | 210 mm |
| Bed width | 260 mm |
| Taper of spindle bore | MT #5 |
| Spindle nose | D1-4 |
| Spindle bore | 40 mm |
| Steps of spindle speeds | 12 |
| Range of spindle speeds | 40-1800 rpm |
| Range of cross feeds | 0.024-0.359 mm/rev. |
| Range of longitudinal feeds | 0.043-0.653 mm/rev. |
| Range of Inch threads | 4-56 T.P.I. /28 Kinds |
| Range of Metric threads | 0.4-7 mm /37 Kinds |
| Top slide travel | 92 mm |
| Cross slide travel | 180 mm |
| Tailstock quill travel | 120 mm |
| Taper of tailstock quill | MT #3 |
| Motor | 2.2 KW, 400V/3Ph/50Hz |
| Packing size | 1900x750x1510 mm |
| Net weight | 1150 KG |
| Gross weight | 1350 KG |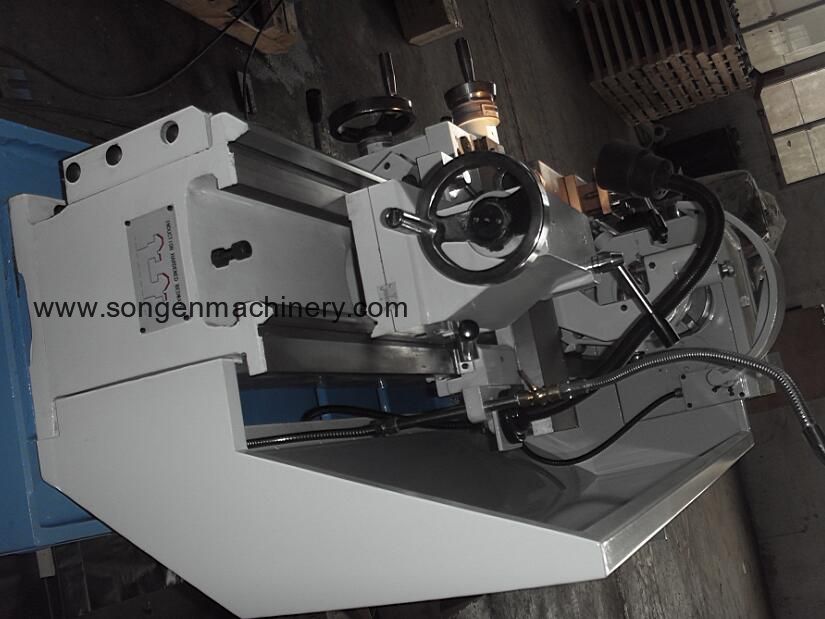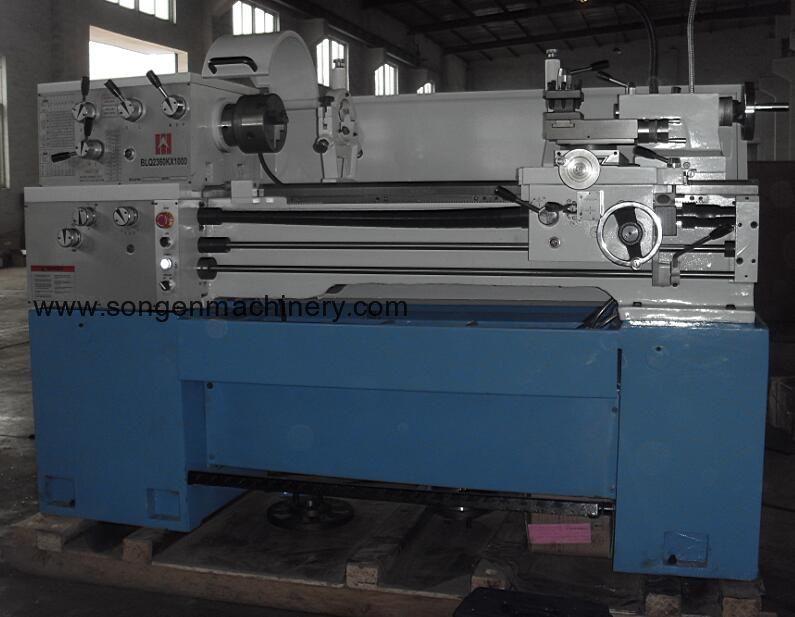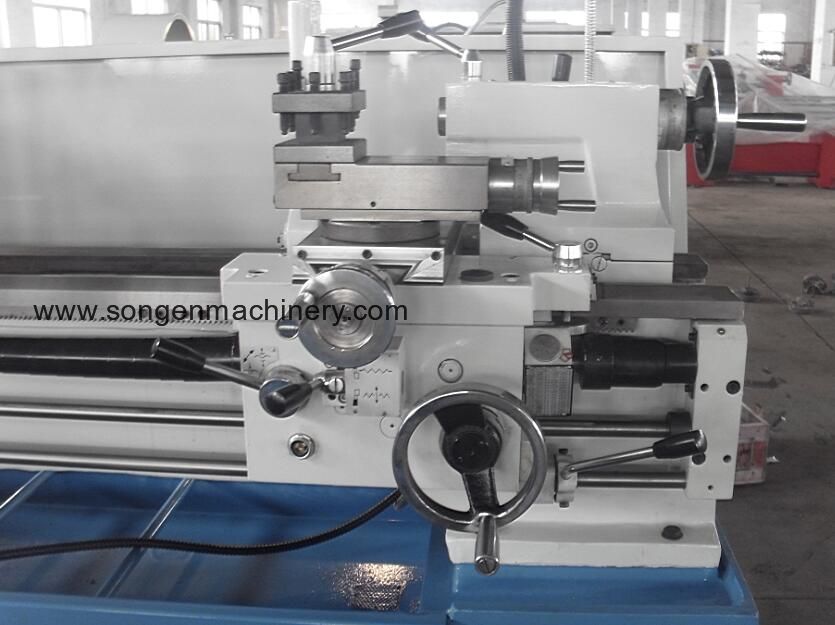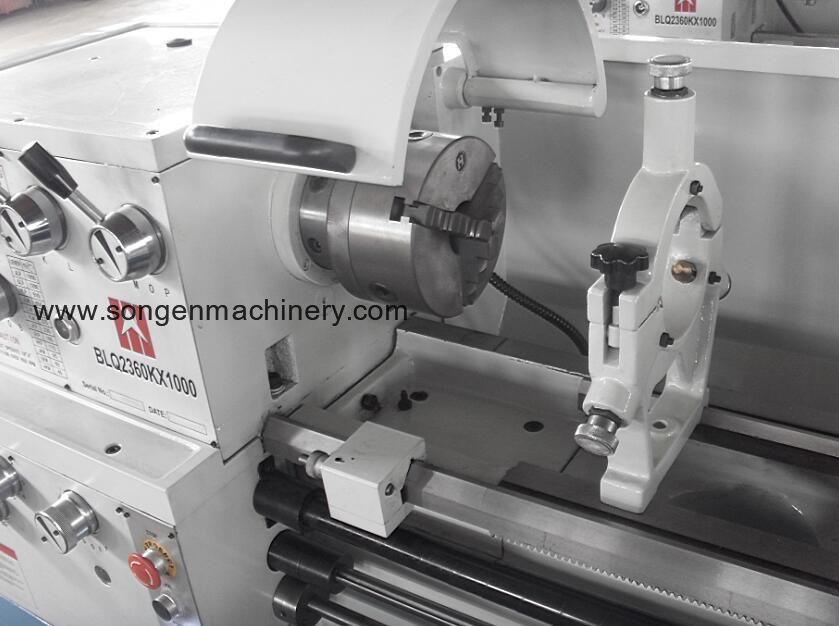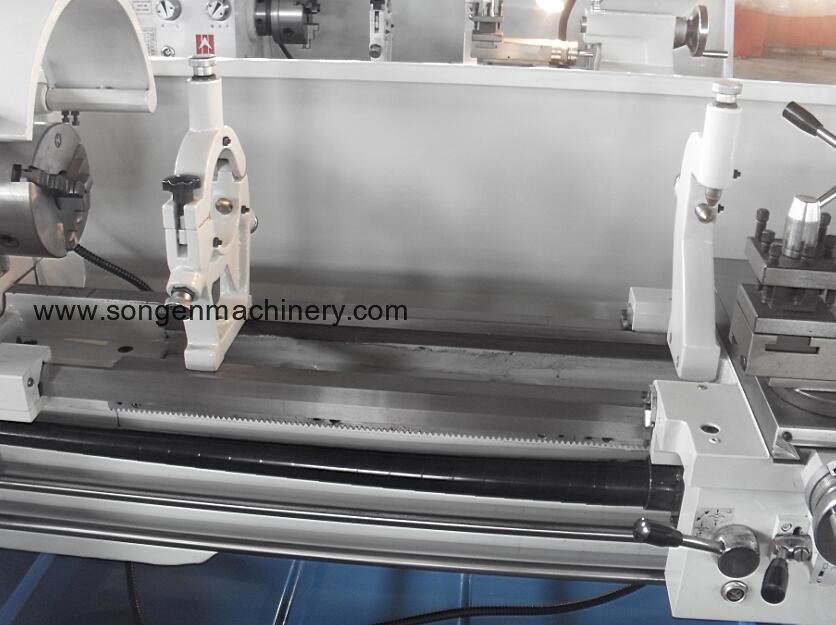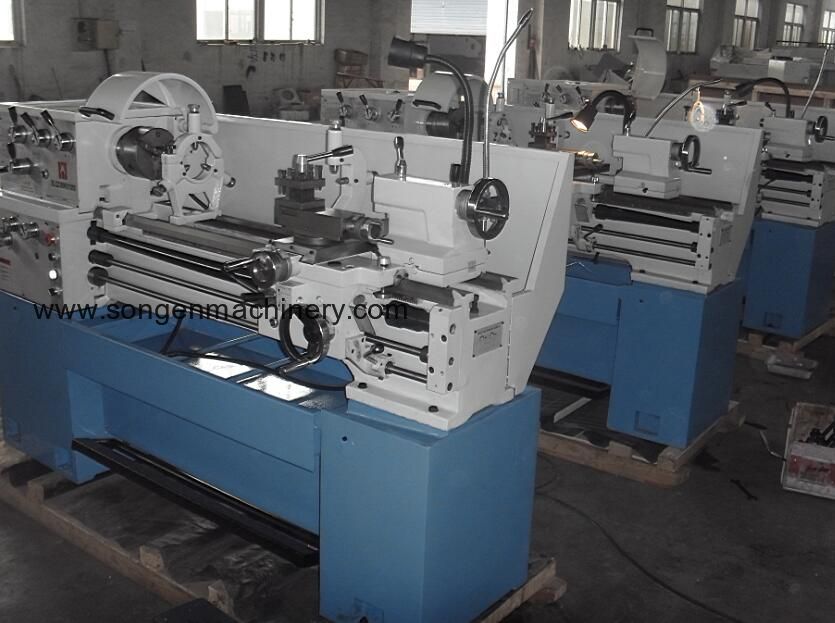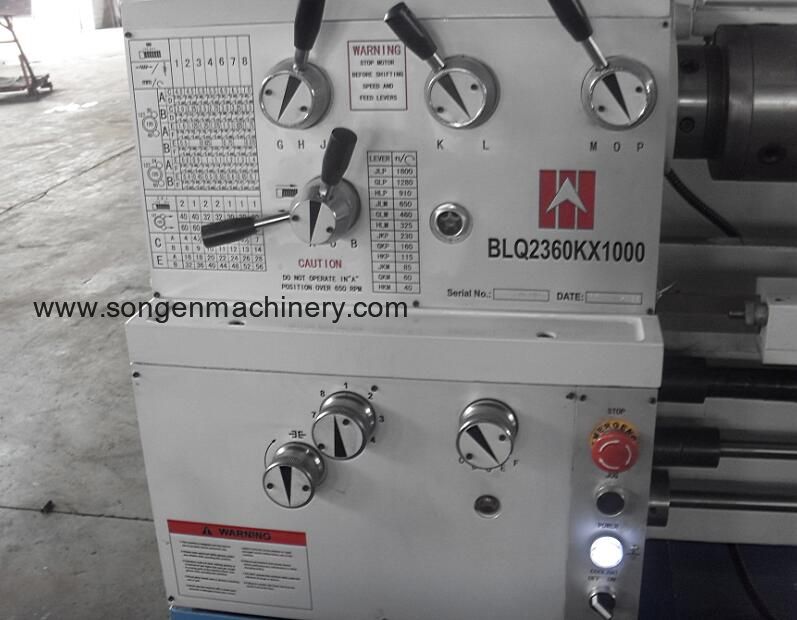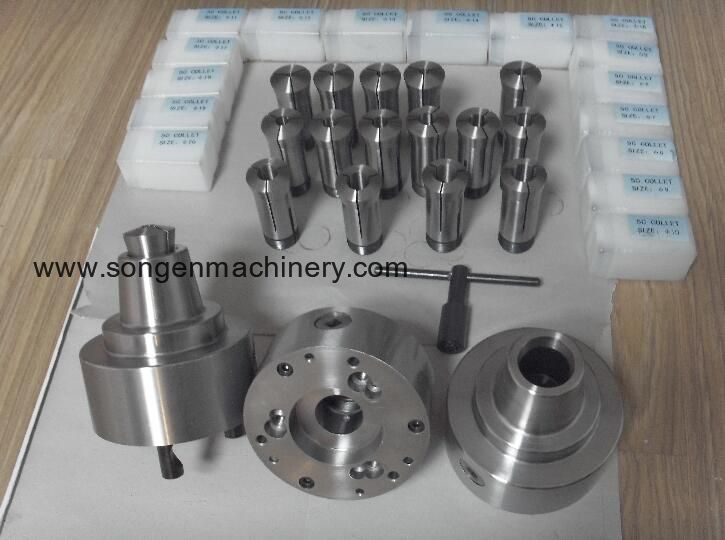 [ Back ]