Machine tools

Machine tool accessories

Welding, cutting equipment

OEM Machined parts, components
Swing over bed 500mm Model SN50B engine lathe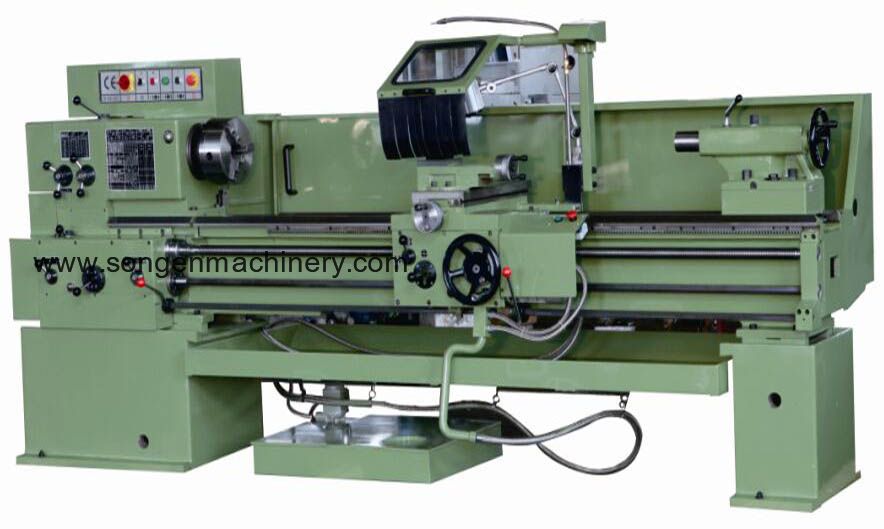 Gear-headed with high spindle speeds (maximum as 2000 RPM) for precision turning;

Very rigid machine bed in the double-wall structure with heavy ribbing;

Guide ways ultrasonic frequency quenched and precision ground to ensure a long accurate service life;

Removable gap for large swing;

Gears in headstock and feed gearbox hardened and precision ground for low noise in running;

Spindle mounted on high-precision tapered roller bearings and high-precision angular contact ball bearings for high-speed and accurate revolutions;

Maximum accuracy and quiet operation even at high speed;

High machining performance with 5.5 KW main drive;

Spindle bore diameter 52mm for machining of long bars;

Feed gearbox well sealed to eliminate leakage;

Kinds of metric threads, inch threads, diametrical pitch threads and module threads;

Tailstock locked by thread and cam lock;

Electric system is reliable and safe;

CE-conformity electromagnetic brake at users option;

Digital readout 2-Axis or 3-Axis can be mounted as an option;

Machine color at buyer option.
Standard accessories:
l 3-Jaw self-centering chuck c/w one set of reversible top jaws;
l 4-Jaw chuck with reversible top jaws;
l Face plate;
l Chasing dial indicator;
l Lead screw guard.
l Steady rest;
l Follow rest;
l Dead centers;
l Splash guard;
l Halogen work lamp;
l Stand & oil tray;
l Toolbox & tools;
l Coolant system;
l Foot clutch.
Optional accessories:
l Taper turning attachment;
l Lead screw guard;
l Quick change tool post;
l Digital readout (2-Axis or 3-Axis);
l Driving plate;
l Live center;
l Chuck guard;
l Drill chuck and drill arbor.
SPECIFICATION

MODEL

SN50Bx1000/1500/2000

CAPACITY

Swing over red

500 mm

Swing over cross slide

270 mm

Swing in gap

700 mm

Length of gap

230 mm

Distance between centers

1000, 1500, 2000 mm

Center height over bed

250 mm

340 mm

Max. workpiece weight supported between centers

300 KG

Max. workpiece weight supported with chuck only

80 KG

HEADSTOCK

Spindle nose

STN ISO 702/II - C6

Spindle bore

80mm

Taper of spindle bore

No.6 Morse

Spindle peed

24 Steps, 22.4-2000 RPM

FEEDS AND THREADS

Max.travel of compound rest

140 mm

Max.travel of cross slide

300 mm

Max. section of tool

32×20mm

Longitudinal feeds range

38 Kinds, 0.05-6.4 mm/Rev.

Cross feeds range

38 Kinds, 0.025-3.3 mm/Rev.

Rapid traverse, Longitudinal

3000 mm/Minute

Rapid traverse, Cross

1500 mm/Minute

Metric threads range

29 Kinds, 0.5-40 mm

Inch threads range

38 Kinds, 1-80 T.P.I.

Diametrical pitches range

31 Kinds, 2-72 D.P.

Module pitches range

26 Kinds, 0.25-20 mm

TALLSTOCK

Quill bore diameter

70 mm

Travel of tailstock sleeve

180 mm

Morse taper of tailstock sleeve

No.5 Morse

Cross resetting

±12 mm

MOTOR

Power of main motor

5.5 KW

Power of coolant pump

0.1 KW

DIMENSION AND WEIGHT

Overall dimension (L x W x H)
D.B.C. 1000 mm
D.B.C. 1500 mm
D.B.C. 2000 mm


264 x 110 x 151 cm
315 x 110 x 151 cm
363 x 110 x 151 cm

Net weight
D.B.C. 1000 mm
D.B.C. 1500 mm
D.B.C. 2000 mm


1735 KG
1835 KG
1940 KG