Machine tools

Machine tool accessories

Welding, cutting equipment

OEM Machined parts, components
VL1600 vertical lathe, swing 1600mm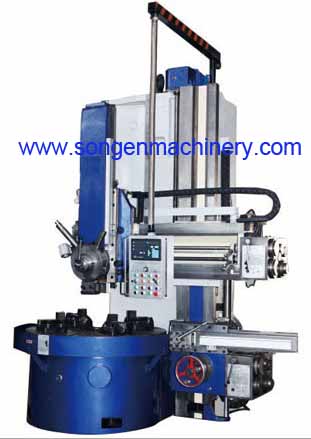 [1] Multifunctional single column vertical lathe with large turning capacity, stable and rigid construction and high machining efficiency for rough or fine turning on internal or external cylindrical surfaces, taper surfaces, end surfaces, grooving, boring, drilling and reaming etc.;

[2] Hydrostatic zinc alloy guide ways inlaid on the worktable features low friction between moving parts and high load capacity for the worktable. The vertical lathe spindle in the worktable is supported by a double-row cylindrical roller bearing with high-precision tolerance class P5 and a tapered bore to eliminate effectively the radial clearance between the spindle and the table plate and ensure the spindle to rotate precisely for achieving high precision and stable machining at a high speed;

[3] Main parts of this single column vertical lathe, including beds, base, worktable, beam, vertical sliding rest, side tool box, feed box, main drive gearbox, are made of high-strength and high-rigidity resin sand castings processed with thermal stress relief aging treatment. Small cast iron parts of this single column lathe are hardened at a high temperature. All the steel parts on the single column vertical lathe are thermal refined to ensure a long-time and dependable service;

[4] All gears in the gearbox of this single column vertical lathe are made of chrome alloy steel and have been hardened and precision ground for a high-precision transmission and low operation noise;

[5] The beam is clamped and unclamped by a drift with hydraulic pressure;

[6] Components in the hydraulic system are from domestic or abroad famous manufacturers to ensure their reliable performance;

[7] Lubrication system automaticall lubricate the beam and other moving parts simultaneously at specified time;

[8] The moving parts of the vertical lathe are protected by a full range of security chain and interlock;

[9] Electrics are controlled by OMRON / LS brand PLC;

[10] Guideways on this single column vertical lathe plastic coated to ensure high wear resistance;

[11] High-precision digital readout (DRO) system is optional to be equipped with this vertical lathe;

[12] The vertical lathes are builted by ISO 9001, CE licensed manufacturers.
| | | |
| --- | --- | --- |
| Specifications | Unit | VL1600 |
| Max.turning diameter of vertical tool post | mm | 1600 |
| Max.turning diameter of side tool post | mm | 1400 |
| Table diameter | mm | 1400 |
| Max.turning height | mm | 1200/1400/1600 |
| Max.weight of workpiece | T | 5 |
| Rotate range of table | r/min | 5-160 |
| Stage number of variable speed | | 16 |
| Feeding range of vertical and side tool post | mm /min | 0.8-86 |
| Feeding stage number of vertical and side tool post | | 12 |
| Max.cutting force of vertical tool post | Kn | 25 |
| Max.cutting force of side tool post | Kn | 20 |
| Max.total cutting force | Kn | 40 |
| Max.torque of table | Kn.m | 25 |
| Level stroke of vertical tool post | mm | 915 |
| Vertical stroke of vertical tool post | mm | 800/1000 |
| Level stroke of side tool post | mm | 630 |
| Vertical stroke of side tool post | mm | 900 |
| Beam stroke | mm | 650/850/1100 |
| Moving degree limit of vertical tool post | degree | ±30 |
| Vertical and side Tool rest rapid traverse speed | m/min | 1.8 |
| Beam lifting speed | m/min | 0.44 |
| Sectional dimension of cutter bar(length*width) | mm | 40*40 |
| Main motor power | Kw | 30 |
| Feeding motor power | Kw | 1.3/1.8 |
| Overall size(L*W*H) | mm | 2660*2660*3698 |
| Weight (about) | T | 12.8/14/14.8 |