Machine tools

Machine tool accessories

Welding, cutting equipment

OEM Machined parts, components
Hot Products

Knee type milling machines
Universal horizontal milling machine, table 2000x425mm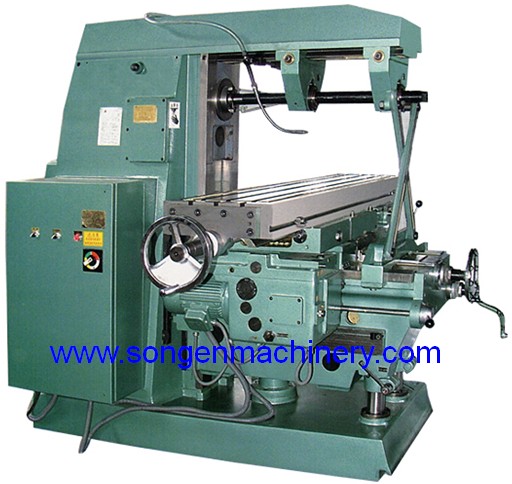 This HM425 knee-type plain horizontal milling machine is suitable for milling the flat surfaces, the inclined surfaces, the angular surfaces and the slots with the disc cutters, the angular cutters, the formed cutters and the face-milling cutters. When equipped with the dividing head, this plain milling machine can perform milling operations on gears, cutters, helix grooves, cams and tub wheel;

On this plain milling machine, the base and the column are made of one-piece high-density resin grey iron castings to ensure the whole machine has high rigidity. All the guideways on this plain milling machine are hardened with high-frequency quenching and precision ground to keep long term stable accuracy;

Large worktable as 2000x425mm to carry large workpieces. The worktable of this plain milling machine can perform manual feeds, power feeds and rapid traverses in all the longitudinal, cross and vertical directions;

Cantilever mounted control console provides convenience for the operations;

When equipped with the dividing heads, the vertical milling heads, the universal milling heads and the machine vises, this plain milling machine can extend its machining scope;

On customer request, a Digital Readout system can be mounted to monitor accurately the real-time movements of the worktable to ensure the high-precision machining.
Specifications
Unit
HM425

Worktable size (Length x Width)

mm

2000 x 425

Worktable travels

Longitudinal (Manual/Power)

mm

1200/1180

Cross (Manual/Power)

mm

410/400

Vertical (Manual/Power)

mm

460/450

Feed steps of worktable

15

Feed speed range

Longitudinal

mm/Minute

10 - 1250

Cross

mm/Minute

10 - 1250

Vertical

mm/Minute

2.5 - 315

Distance between spindle centerline with worktable

mm

30 - 480

Spindle speeds

RPM

18 - 1400, 20 Steps

Main motor power

KW

11

Overall size, L x W x H

mm

2614 x 2497 x 2043

Net weight, Approx.

KG

5300