Machine tools

Machine tool accessories

Welding, cutting equipment

OEM Machined parts, components
Hot Products

CNC shaping machine, max. shaping length 1200mm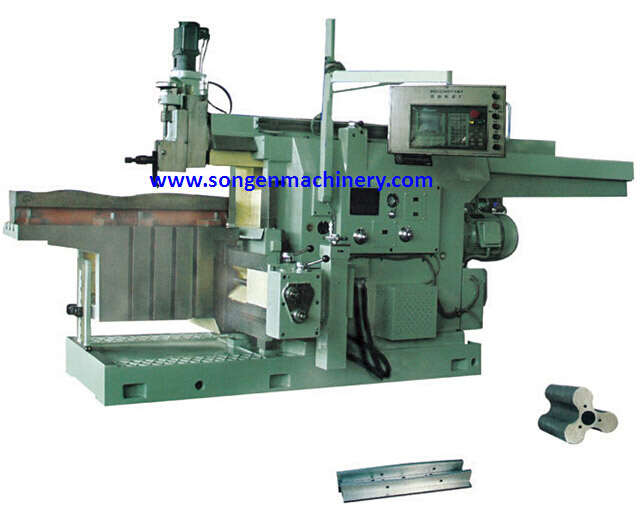 This model CNC-P1200 CNC controlled shaping machine has a hydraulic shaping machine as its main machine. It is a popular shaping machine in an innovative design. On this shaping machine, the hydraulic transmission system and the mechanical system have been optimized with high precision components such as the ball screws to ensure the high performance accuracy on this machine.

The integrated NC control system makes this shaping machine to carry out the high precision shaping on complex curved surfaces. Irregularly shaped special workpieces which are difficult to be machined on CNC machining centers or CNC milling machines, such as the curved surfaces on the crystallizers used in the steel mills, the curved surfaces on the fan impellers on the blowers, can be machined on this NC controlled shaping machine. This NC shaping machine can perform the mass production.

Flexiable NC control, high performance accuracy, powerful servo motor, high rigidity, high efficiency, large cutting force, simple strucutre of cutter, low cost, convenient workpiece exchanging comprise the great advantages of this NC shaping machine, making it a optimal choice for your workshop. Especially, this NC shaping machine has the incomparable advantages over the CNC machining centers and the CNC milling machines in machining various kinds of curved surfaces on workpieces.

Performance accuracy:
1. Flatness accuracy on shaped tested workpiece: 0.04 mm;
2. Surface roughness on shaped tested workpiece: Ra6.3 μ M - Ra1.6 μm.
| | |
| --- | --- |
| Model | CNC-P1200 |
| Maximum shaping length | 1200 mm |
| Maximum cutting force | 22000 N |
| Maximum length of shaping curved surface | 1200 mm |
| Minimum shaping length | 200 mm |
| Working speed of ram | 3-25 m/Minute |
| Maximum travel of tool head | 160 mm |
| Maximum swivel angle of tool support | ± 60 Degrees |
| Maximum cross travel of table | 800 mm |
| Maximum vertical travel of table | 320 mm |
| Maximum sectional size of tool shank (WxH) | 30x45 mm |
| Size of upper surface of table (LxW) | 1200x500 mm |
| Oil flow rate of pump | 40 L/Minute |
| Rated working pressure | 5 MPa |
| Main motor | 7.5 KW |
| Rapid traverse motor | 1.1 KW |
| Servo motor torque | 8.34 N.M |
| Overall size of machine (LxWxH) | 4190x1635x1970 mm |
| Net weight of machine (Approx.) | 5000 KG |