Machine tools

Machine tool accessories

Welding, cutting equipment

OEM Machined parts, components
Hot Products

Traverse head shaping machine, max. shaping length 1000, 1250mm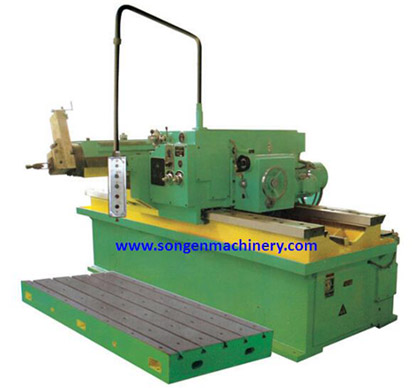 Heavy duty traverse head shaping machine used for shaping flat surfaces, curved surfaces, key slots, formed surfaces on large heavy workpieces.
Feeding motion and main motion are driven by hydraulic force with speeds steplessly adjustable. Tansmission on this shaping machine is table with overload protection. It features high cutting force, great-weight and large-size loading capacity, high rigidity, low temperature rising in operation, minimal thermo-deformation and stable performance precision.
The sliding carriage on this shaping machine can perform automatic feeding and rapid traverse. Automatic cutter lifer and feeding mechanism are equipped on the tool head, giving convenient operations.
| | | |
| --- | --- | --- |
| Model | THP1000 | THP1250 |
| Maximum shaping size (L x W) | 1000 x 1500 - 2000 mm | 1250 x 1500 - 2000 mm |
| Ram stroke | 80 - 1000 mm | 80 - 1250 mm |
| Distance from ram bottom to table top surface | 1200 mm | 1200 mm |
| Maximum travel of tool head | 160 mm | 160 mm |
| Maximum sectional size of tool shank (W x H) | 30 x 35 mm | 30 x 45 mm |
| Maximum swivel angle of tool head | ± 60 Degrees | ± 60 Degrees |
| Size of of table (L x W) | 1000 x 2000 mm | 1250 x 2000 mm |
| T-slot width on table | 28 mm | 28 mm |
| Sliding carriage feed per ram reciprocation stroke | 0.25 - 3 mm | 0.25 - 3 mm |
| Main motor | 7.5 KW | 7.5 KW |
| Rapid traverse motor | 1.5 KW | 1.5 KW |
| Overall size of machine (L x W x H) | 3605 x 3175 x 2605 mm | 3605 x 3400 x 2605 mm |
| Net wieght of machine (Approx.) | 8000 KG | 8400 KG |