Machine tools

Machine tool accessories

Welding, cutting equipment

OEM Machined parts, components
Hot Products

Model CNC-RS2200x4000 CNC Roller Groover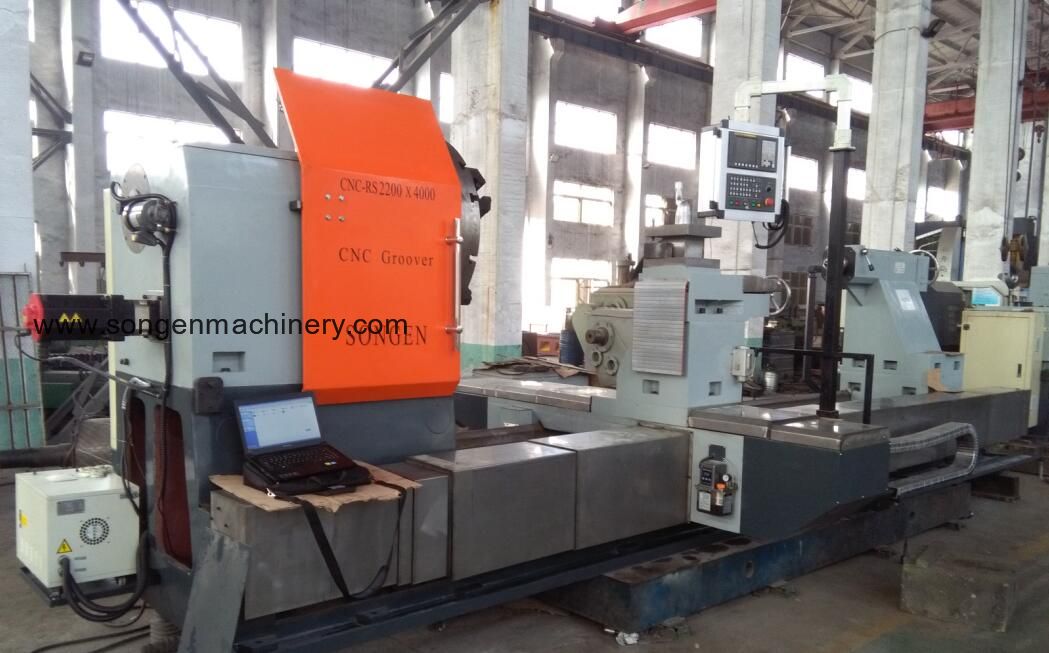 1. Designed for automatically grooving on rubber, iron or steel rollers into herring bone shape, diamond shape, V shape, spiral pattern etc.. Its Fanuc 0i-TF CNC controller has been specially programmed to be adapted to the technologies required in machining various kinds of grooves on rollers.
2. Fanuc 0i-TF CNC controller is on the machine and all servomotors inclusive of the main motor, the X-axis motor, the Z-axis motor are Fanuc made.
3. All electric components are under Siemens brand.
4. 1200mm Wide bed ways are high-frequency quenched to a hardness of HRC 55 and precision ground for a long service life. Two V ways combined with two flat ways enable the machine to carry heavy load with high rigidity.
5. The spindle is supported on SKF bearings listed as below:
| | | | |
| --- | --- | --- | --- |
| Model | NN3040KW33P5 | 32232P5 | 51232P5 |
| Qty. | 1 Set | 1 Set | 1 Set |
6. Heavy duty spindle with diameter of 220mm and nose as A2-15 short-taper direct mount. Fitted on the spindle nose is a heavy-duty OD 1000mm 4-jaw independent chuck with bolt-on type box jaws;
7. Maximum workpiece weight clamped between only the chuck and the tailstock center, without being supported by other devices such as steady rests, is 10 Metric Tons.
8. Cutting attachment is mounted on the cross slide. It consists of one milling attachment and one turning tool holder. It enables both turning and grooving on the rollers' outer cylindrical surfaces.
Milling attachment: a) AC Motor 5.5KW, Variable-frequency driven;
b) Infinite variable spindle speeds within 1 – 600 RPM;
c) Spindle bore taper BT 50.
Turning tool holder: a) To hold 80x80mm tool shank.
9. Grinding attachment is to be supplied with the machine. It can be assembled onto or disassembled away from the top of the cross slide. Prior to grinding, the cutting attachment will be detached away from the top of the cross slide and after that the grinding attachment will be mounted onto the top of the cross slide.
l Grinding wheel:Ф500 x (32-50) xФ203 mm
l Motor: 7.5 KW
l Maximum speed: 1337 RPM
l Weight: 350 KG
10. Bed ways (Z-Axis direction) and cross slide's guide ways (X-Axis direction) are protected with telescopic stainless steel covers.
| | |
| --- | --- |
| Specifications | Model CNC-RG2200X4000 |
| Swing over bed | 2200 mm |
| Swing over saddle | 1800 mm |
| Maximum workpiece length | 4000 mm |
| Maximum workpiece weight between centers (w/o steady rests) | 10000 KGs |
| Bed width | 1200 mm |
| Cross travel (X-Axis) | 1100 mm |
| Cross travel rapid speed | 1500 mm/Minute |
| Longitudinal travel (Z-Axis) | 4000 mm |
| Longitudinal travel rapid speed | 1500 mm/Minute |
| Spindle speeds | 1 –200 RPM, Stepless |
| Spindle nose chuck mount | A2-15 short-taper direct mount |
| Spindle nose bore taper | MT #5 |
| Main motor | 36 N.M, Servo motor, Fanuc |
| X-axis motor | 28 N.M, Servo motor, Fanuc |
| Z-axis motor | 20 N.M, Servo motor, Fanuc |
| Tailstock quill diameter | 180 mm |
| Tailstock quill travel | 300 mm |
| Tailstock quill taper | MT #6 |
| CNC controller | Fanuc 0i-TF |
| Power consumption | 380V/3-Ph/50Hz |
| Machine overall size, Length x Width x Height, mm | 7000 x 2500 x 2500 mm |
| Machine net weight, KGs | 22380 KGs, approx. |